I'm a huge fan of The Hunger Games, so when I found out on Twitter that InStyle has gotten top fashion designers to design Katniss Everdeen's Hunger Games opening ceremony dress I couldn't resist blogging about it! For those who haven't read the books the outfit is originally designed by Cinna, Katniss' own personal make-over guru and mentor who is subtlety pushing the buttons to ignite (no pun intended) a rebellion in this dystopian society. The design brief was pretty simple.
"I am dressed in what will either be the most sensational or the deadliest costume in the opening ceremonies. I'm in a simple black unitard that covers me from ankle to neck. Shiny leather boots lace up to my knees. But it's the fluttering cape made of streams of orange, yellow, and red and the matching headpiece that define this costume. Cinna plans to light them on fire just before our chariot rolls into the streets."

The Hunger Games, pp. 67
Katniss' outfit during this ceremonial procession on a chariot with Peeta is her first real step into becoming a beacon for the rebellion movement. The outfit is powerful, not necessarily sexy, but enough to capture the attention of the 'Capitol' in for both the wrong and right reasons.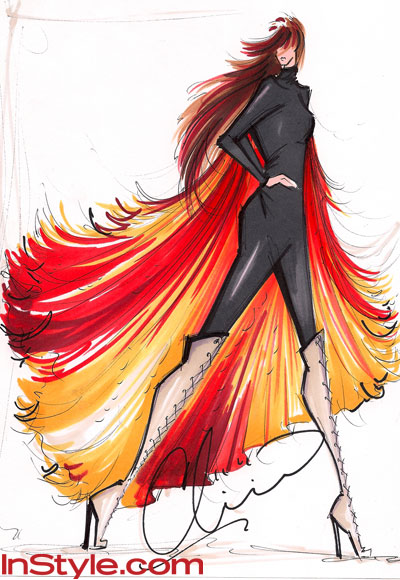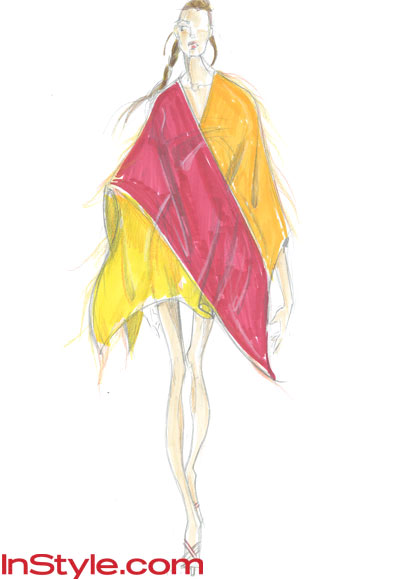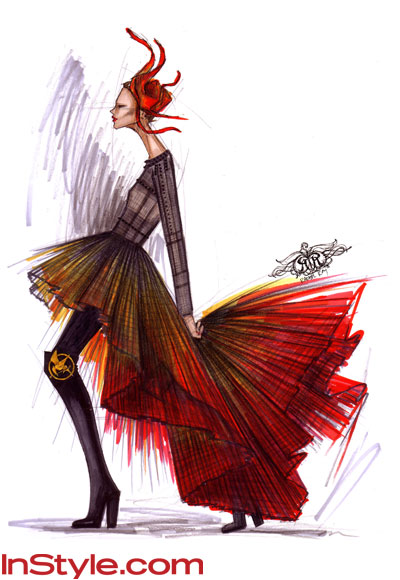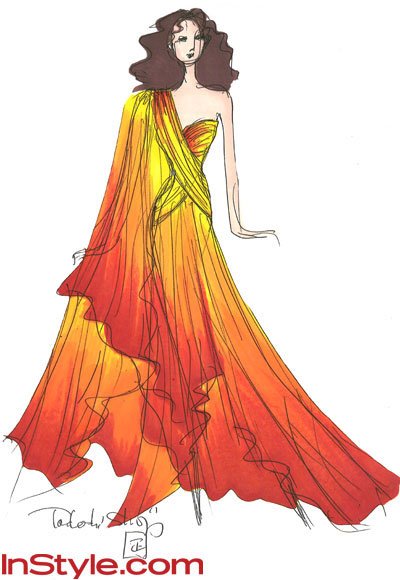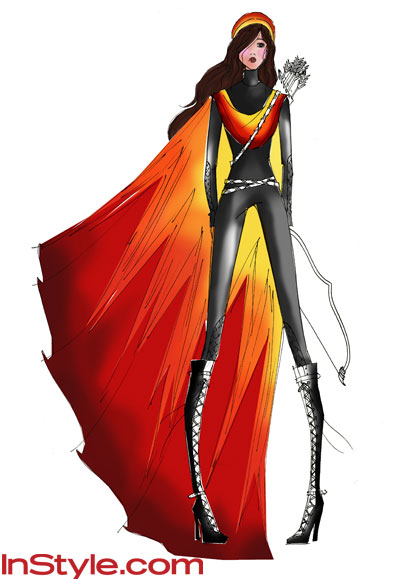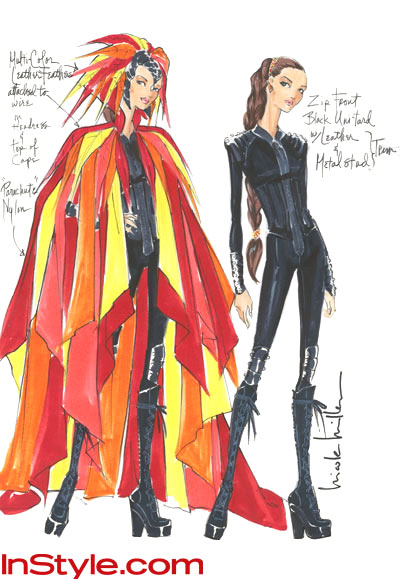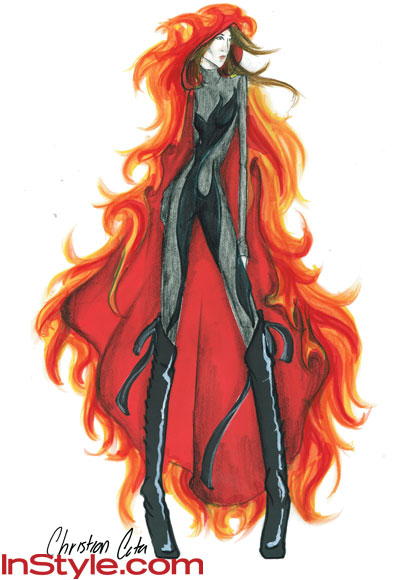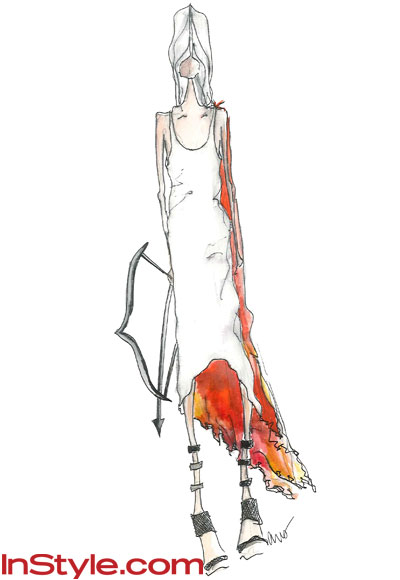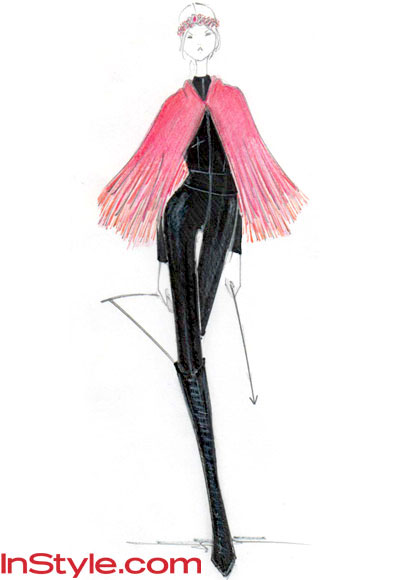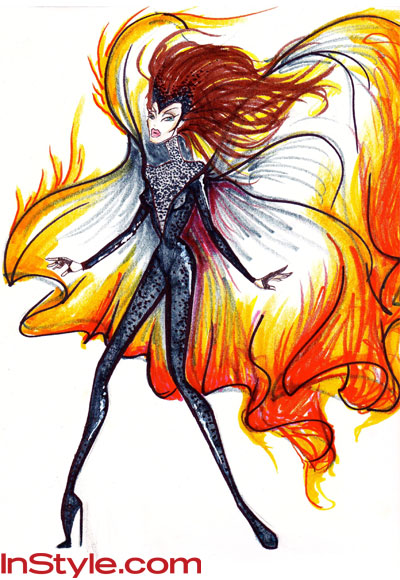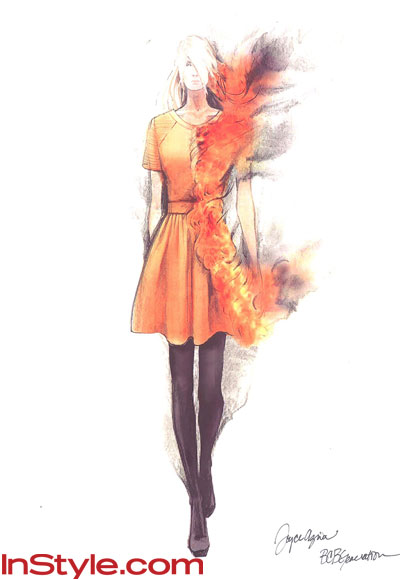 My favourites are definitely Christian Cota and Charlotte Ronson, both of these designers captured the spirit of Cinna's vision for Katniss. She's armed, dangerous and not the little girl from District 12 everyone thinks she is. Close runners up for me are Christian Siriano for his take on her fire cape and Rachel Roy's nod to the fandom with the Mockingjay pin on her boots. Nicole Miller and The Blond's take on her outfit are a bit too 'Capitol' chic for me, I can't see Katniss in a Gaga-esque headdress, sorry! As for Tommy Hilfiger, Tadashi Shoji, Tibi and BCBGeneration? I don't know what book they were reading but standing the designs on their own they look great. 
I loved pouring over these and hopefully, the costume designers for the movie will do just as great a job!
Ria Xx