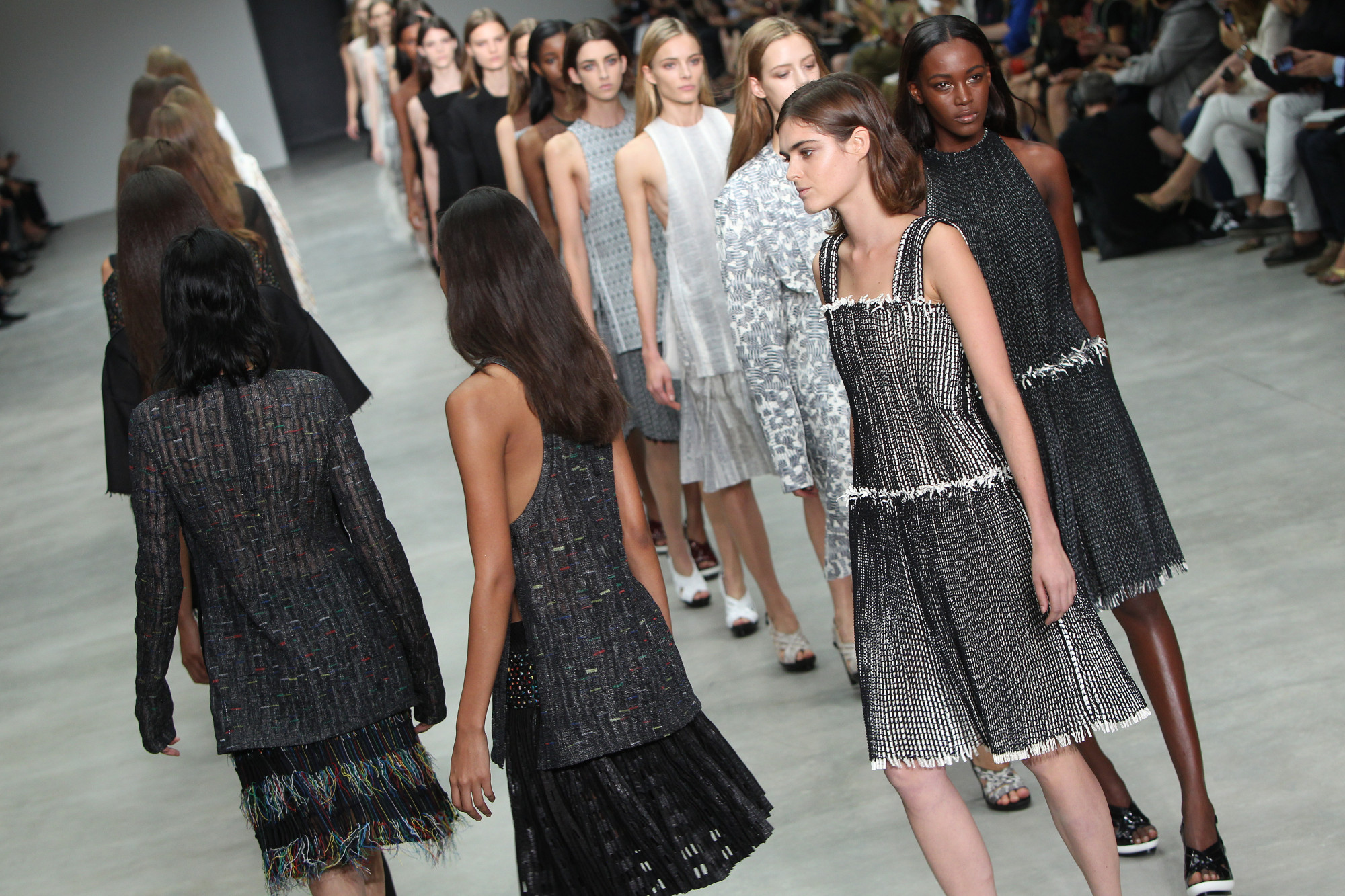 Beth Ditto shutting down the runway at Marc Jacobs for the final show of NYFW
Maddy Stuart and Leslie Irby shattering perceptions of disability at FTL Moda
Rachel Comey's choice of older dancers
Ashish hitting the headlines with gender fluid fashion
Dominican model Lineisy Montero walking a whopping 65 shows this season include McQueen, Burberry and Prada
You would be fooled in thinking that the Spring/Summer 2016 fashion week season was one of the most diverse yet. But when you look at the cold hard stats? It paints a less rosy picture.
The body debate
If there's one thing Gigi Hadid's rant on Instagram showed us is that no one is safe from the body debate. When a 5″10, size 4, Victoria's Secret model gets body shamed for having boobs and – shock horror – looks a bit curvy in a dress that is designed to give the illusion you have more curves than you have you know people have overstepped a line. Designers often talk about celebrating the women's body but all we see on the runway is a very specific body type. Their argument, the clothes are made within a specific sample size (often between a US size 0-4), meaning models on the runways need to be 'mannequin sized' to fit into the pieces. Back
in 2013 'plus sized' model Crystal Renn suggested a simple solution, make bigger sample sizes and then tailor them down if you want a smaller model. I'm not saying we should exclude women who are size 0-4, I am suggesting that we should include a wider variety of women on the runway from size 0 all the way up to size 18 and beyond. The fact Beth Ditto looked just as kick ass walking down the Marc Jacobs runway as any other model should be more than enough of a reason to include more women like her.
Showcasing disability
As I mentioned in my introduction there were some small steps int showcasing disability this season – particularly in the New York and Milan shows. Jamie Brewer started that conversation this year as she walked the runway in New York, and Australian Madeline Stuart held the banner high this season among others at the FTL Moda show this season. And, again like women of different dress sizes it's so easy to put these women in runway shows. A girl with Downs Syndrome can wear a couture gown, a woman in a wheelchair can wear a couture gown. It doesn't matter if you have one arm or two or wear a prosthetic leg, it shouldn't affect your ability to wear designer pieces.
Gender fluidity and 'womenswear' collections
In contrast gender is often a tricker subject to portray on the runway. The hint is in the name – Women's Ready To Wear season. Designers may find it hard to address this part of diversity because it unavoidable looks like a political statement. But until our world socially accepts the fact that gender is a social construct where people don't fit into neat little 'male' and 'female' boxes, and fashion bodies such as the British Fashion Council or the CFDA decide to abolish the separation between womens and mens shows, the reality is that it's up to designers and casting agents to choose to showcases more than just cis-gendered women in womenswear show. A number of designers have already chosen to do this to great effect (again Ashish and Maison Margiela's collections spring to mind) but there's never any harm to do more to include transgender women, femme-men, and non-binary models at fashion week.
Women of Colour
This is quite possibly my biggest gripe of all – mainly because out of all of these diversity problems it's the single one that is the easiest to solve and call designers out on.
According to Business of Fashion, of the 3,875 model bookings that were made across the four major fashion weeks (New York, London, Milan and Paris respectively), only 797 were classes as models 'of colour' (i.e. black, Asian, non-white Hispanic and 'other').
If you do the maths that means 79.4% of the models that walked the runway were white. Black models were, unsurprisingly to me, the highest represented minority. They have been the most vocal in recent years about racial equality during fashion weeks – hence big names such as Chanel Iman, Alek Wek, Joan Smalls and Jourdan Dunn racking up the runway miles for some of the biggest designers every season.
The next group is 'Asian' models at 6.5%, who are almost all predominantly Chinese, Korean, or Japanese women…all with paper white complexions, not a single 'tanned' Asian woman in sight. And finally the rather depressingly titled 'other' category of models classified by Bof as either Indian and Middle Eastern descent at measly 2.3% (personally I think Indian should be classified as Asian as they are, y'know, in Asia but I understand BoF sentiment to using this category).
What's really shocking is hispanic models accounted for only 1.6 percent of model bookings made – ridiculous when you consider the proximity and access to models of hispanic descent for Milan and Paris, and the huge Hispanic and Latino communities in New York.
What bothers me most about these statistics in particular is that for many designers, places like China and the Middle East are two of the biggest consumers of their output. That fact that not even a third of models that walk for these brands are from ethnic minorities is not only a bad social move but a detrimental business one. Why not choose to not to represent the people who are buying your clothes on the runways?
Why does it matter?
It's the age old argument. Should designer fashion represent the 'real world' or a fantasy or an art form?
In my opinion? It's 2015. The fashion week season is no long just confined to the echo chamber of the four big cities; editors/stylists/celebs aren't the only ones privy to watching these shows anymore; and the entire world is tuned into these designers every move. Consumers of these brands – both those able to afford to buy the pieces and those, like me, who pretty much act like freelance brand ambassadors – have full access to the entire show via livestreams and Instagram/Twitter feeds. And as I've said why not choose to represent the people who will be buying, wearing and supporting their labels?
Fashion should be accessible to everyone and what better way to show off how your designer pieces are going to translate off the runway than by casting a diverse range of models to demonstrate how versatile and wearable your designs actually are.
Fashion is living and breathing art that is made to be worn, not hung on a rack for display.
So now my first question to the industry is how long are will the fashion world sustain this love for diversity when it comes to model casting?
It's all good and well including a diverse set of women one season, but the real challenge will be whether they are going to keep casting women of colour, women with disabilities, women of different dress sizes and non-binary folk too. As an asian woman of colour, I yearn for the day I see a Filipino model walking the Burberry runway. And when that day comes I'll think 'Hey that's awesome, she looks just like me'. As much as the world tries to deny it, fashion and models in particular have an impact and influence on pop culture now. We've seen the way diversity can change the perceptions of beauty in other spheres, why not fashion too?
But diversity can't be a gimmick we all care about just for Spring/Summer 2016. It has to be a commitment by design houses, casting agents, editors, stylists, and models themselves to portray our world within this fantasy world of designer fashion.
R.xoxo